Wireless Power Transfer for Train Applications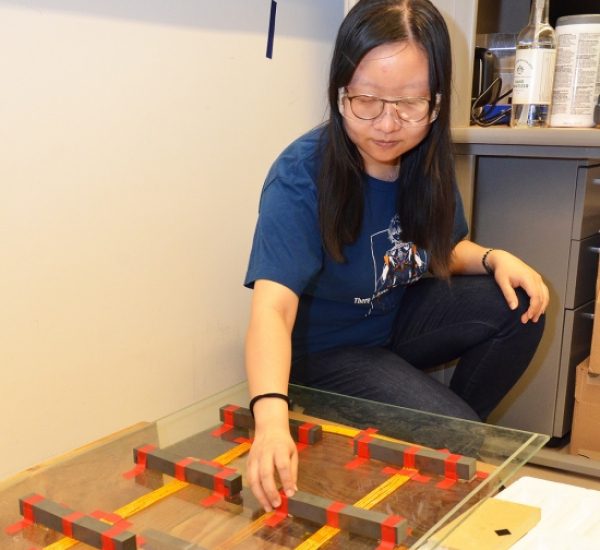 New Research Project
Researchers at the University of North Carolina at Charlotte have been awarded two research grants amounting to over $1M funding to develop wireless charging technology for potential train applications. This research is led by Dr. Tiefu Zhao from the Department of Electrical and Computer Engineering and Energy Production and Infrastructure Center (EPIC), Dr. Shen-En Chen and Dr. Nicole Braxtan from the Department of Civil and Environmental Engineering. The project team also includes Rail Propulsion Systems (RPS) of Fullerton, CA as an industry partner.
The first project, entitled "Wireless Power Transfer for Switcher Trains," was awarded by the North Carolina Department of Transportation (NCDOT) from North Carolina Department of Transportation (NCDOT). This one of the kind research project may potentially represent a paradigm shift in rail propulsion technology from traditional diesel-electric engines to battery engines (without the overhead power lines or the third rail). The project will research, develop, and demonstrate the high frequency power electronics based Inductive Power Transfer (IPT) technology to allow the switcher trains be charged overnight and minimize the heavy labor involved in the current plug-in charging system – thus minimize exposing rail yard personnel to working hazards due to heavy loading. The proposed IPT charging system will provide substantial support for the rapid and reliable charging of the electric power supply of the switcher trains, which will greatly facilitate asset management in terms of efficiency, effectiveness, and safety.
The research team was recently awarded a second award of $658K from the Federal Railroad Administration (FRA) for their project entitled "Intelligent Wireless Power Transfer (IWPT) for Safe Electric Power Charging of Rolling Stock", which builds upon the technology that is under development in their NCDOT-sponsored prject on the topic of Wireless Rail Electrification.