Accreditation
Specialized Accreditation
The Bachelor of Science in Electrical Engineering (B.S.E.E.) and the Bachelor of Science in Computer Engineering (B.S.Cp.E.) degree programs are accredited by the Engineering Accreditation Commission of ABET, www.abet.org.
ABET Information: Why Should I Choose an Accredited Program?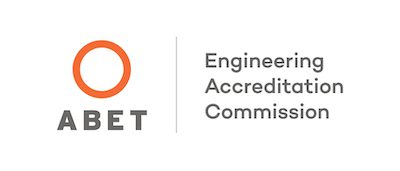 Personal Educational Outcomes (PEOs) our graduates are expected to achieve:
1. Successful careers in industry and/or success in post-baccalaureate studies as evidenced by
Being valuable contributors to their employers
Career satisfaction.
Professional visibility through publications, presentations, recognitions, and awards.
Promotions in their chosen professions.
Advanced degrees earned.
2. Abilities to contribute to the betterment of society and the world as evidenced by
Good citizenship by engaging in engineering practice that values integrity and ethical conduct.
Useful inventions.
Entrepreneurial activities.
Active involvement in the education of others, locally or globally.
Student Outcomes (SOs)
The Electrical Engineering and Computer Engineering programs have the following student outcomes:
an ability to identify, formulate, and solve complex engineering problems by applying principles of engineering, science, and mathematics
an ability to apply engineering design to produce solutions that meet specified needs with consideration of public health, safety, and welfare, as well as global, cultural, social, environmental, and economic factors
an ability to communicate effectively with a range of audiences
an ability to recognize ethical and professional responsibilities in engineering situations and make informed judgments, which must consider the impact of engineering solutions in global, economic, environmental, and societal contexts
an ability to function effectively on a team whose members together provide leadership, create a collaborative and inclusive environment, establish goals, plan tasks, and meet objectives
an ability to develop and conduct appropriate experimentation, analyze and interpret data, and use engineering judgment to draw conclusions
an ability to acquire and apply new knowledge as needed, using appropriate learning strategies.
Enrollments
Enrollment and graduation data for the BSEE and BSCPE programs can be found in the University Fact Book.
Regional Accreditation
UNC Charlotte is accredited to award baccalaureate, master's, intermediate, and doctoral degrees by the:
Southern Association of Colleges and Schools Commission on Colleges (SACSCOC)
1866 Southern Lane
Decatur, Georgia 30033-4097
Telephone number: 404‑679‑4501