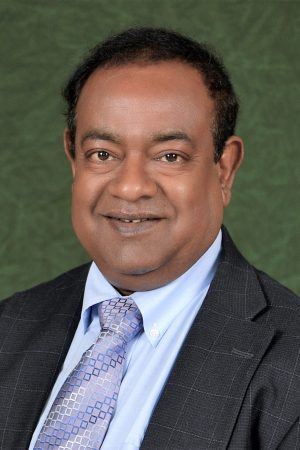 Dr. Asis Nasipuri, Ph.D.
Professor and Chair
Education:
Ph.D. University of Massachusetts at Amherst, 1993
M.S. University of Massachusetts at Amherst, 1990
B.Tech. (Hons.) Indian Institute of Technology, Kharagpur, India, 1987
Research:
Multi-hop Wireless Networks
Wireless sensor networks
Mesh networks
Mobile ad-hoc networks
Wireless Experimental Testbeds
Statistical Signal Processing
Selected Publications:
Md. M. I. Rajib and A. Nasipuri, "Predictive Retransmissions for Intermittently Connected Sensor Networks with Transmission Diversity", ACM Transactions on Embedded Computing Systems (TECS), Volume 17 Issue 1, January, 2018.
A. Pal and A. Nasipuri, "Distributed Routing and Channel Selection for Multi-Channel Wireless Sensor Networks", MDPI Journal of Sensor and Actuator Networks, 6 (3), July 2017.
A. Nasipuri, R. Cox, J. M. Conrad, L. Van der Zel, B. Rodriguez, and R. McKosky, "Design considerations for a large-scale wireless sensor network for substation monitoring", 2010 IEEE 35th Conference on Local Computer Networks (LCN), pages 882-889, October, 2010.
Amitangshu Pal and Asis Nasipuri, "A Quality based Routing Protocol for Wireless Mesh Networks", Pervasive and Mobile Computing, Vol. 7, No. 5, October 2011, pp. 611 – 626, Elsevier.
Asis Nasipuri, Robert Castaneda, and Samir R. Das, "Performance of Multipath Routing for On-Demand protocols in Mobile Ad Hoc Networks", ACM/Baltzer Mobile Networks and Applications(MONET) Journal, vol. 6, pp. 339-349, 2001.
Personal Website: