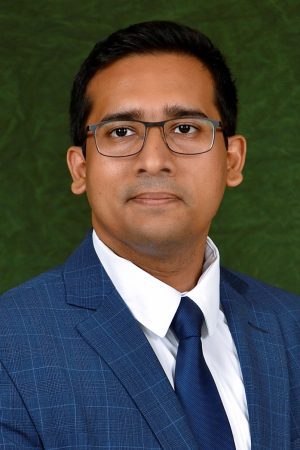 Dr. Minhaj Alam, Ph.D.
Assistant Professor
Education and Training:
Postdoctoral Fellowship, Stanford University, Stanford, CA, 2022
Ph.D. University of Illinois at Chicago, Chicago, IL, 2020
M.Sc. Islamic University of Technology, Gazipur, Dhaka, Bangladesh, 2015
B.Sc. Islamic University of Technology, Gazipur, Dhaka, Bangladesh, 2013
Research Areas:
AI in healthcare and medicine
Computer aided diagnostics
Imaging biomarkers
Precision medicine and federated learning
Selected Publications:
AI in medical diagnostics:
Minhaj Alam, Theodore Leng, Joelle Hallak, and Daniel Rubin, "Contrastive learning improves representation and transferability of diabetic retinopathy classification models" Investigative Ophthalmology & Visual Science, 63 (7) (2022)
Rikiya Yamashita*, Tara Kapoor*, Minhaj Alam (equal contribution)*, et. al., "Toward Reduction in False-Positive Thyroid Nodule Biopsies with a Deep Learning-based Automated Risk Stratification System using Ultrasound Cine-clip Images," Radiology AI (2022). doi: https://doi.org/10.1148/ryai.210174
Minhaj Alam, David Le, Taeyoon Son, Jennifer I. Lim, and Xincheng Yao, "AV-Net: deep learning for fully automated artery-vein classification in optical coherence tomography angiography," Biomed. Opt. Express 11, 5249-5257 (2020).
Minhaj Alam, David Le, Jennifer I. Lim, Devrim Toslak, Xincheng Yao, "Supervised machine learning based multi-task artificial intelligence classification of retinopathies," Journal of Clinical Medicine (2019), 8 (6), 872.
Biomarkers and retinal instrumentation:
Taeyoon Son, Minhaj Alam, Devrim Toslak, Benquan Wang, Yiming Lu, Xincheng Yao, "Functional optical coherence tomography of neurovascular coupling interactions in the retina," Journal of Biophotonics, e201800089 (2018).
Minhaj Alam, Yue Zhang, Jennifer I. Lim, R.V.P. Chan, Min Yang, Xincheng Yao, "Quantitative OCT angiography features for objective classification and staging of diabetic retinopathy," Retina (Philadelphia, PA), (2018) DOI: 10.1097/IAE.0000000000002373.
Benquan Wang, Devrim Toslak, Minhaj Alam., R.V.P. Chan, Xincheng Yao, "Contact-free trans-pars-planar illumination enables snapshot fundus camera for nonmydriatic wide field photography," Scientific reports, 8(1) p 8768 (2018).
Personal Website: