Dr. Tabkhi wins NSF Award on public safety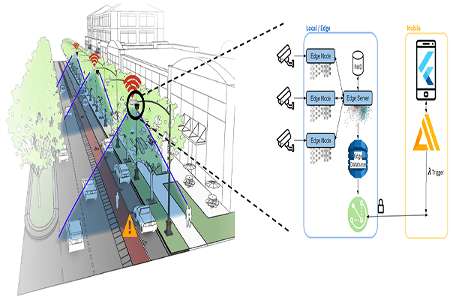 The National Science Foundation (NSF) has awarded $400,000 (four three years) to Dr. Hamed Tabhki, Assistant Professor of Electrical and Computer Engineering, through NSF Transition to Practice (TTP) supplemental funding for his existing NSF Smart and Connected Communities (S&CC) project on addressing public safety challenges through real-time privacy-preserving computer vision.
The overarching aim of this project is to leverage recent advances in machine learning and artificial intelligence to address public safety issues in our communities. This project makes fundamental steps to build future AI-power technologies to address public safety issues and find new solutions to address the rapidly increasing number of crimes in our communities, from public parking lots to shopping malls, neighborhoods, and hospitals. In particular, this project primarily focuses on innovative computer vision and video analytic technology to monitor, understand and detect potential criminal behaviors across cameras. At the same time, the technology provides novel system architecture and IoT/cloud infrastructure to bring back the information to stakeholders and the general public. The project avoids processing or using any Personally Identifiable Information (PII) to preserve privacy. It also does not use any facial recognition technology; rather, it focuses on identity-neutral criminal behaviors and activities. In addition, this project has proposed a set of system-level solutions to ensure the privacy-preserving policies needed for real-world deployment. The entire AI processing will be performed at the edge, next to the camera, within the physical space, without storing the actual video footage or directly transferring them to the cloud or external computing server.
This supplement proposal makes fundamental steps to transfer the developed technology to practice. To this end, PIs primary goals are (1) establishing new community testbeds and community partnerships in new domains and (2) making the required steps both in technology development and partnership to harden for potential commercialization. The team includes Hamed Tabkhi, PI, Arun Ravindran, Co-PI, Shannon Reid, Co-PI (Criminal Justice and Criminology), Jeri Guido, Community partner, Central Piedmont Community College.