Dr. Tabkhi Awarded Seed Funding to Develop a Smart Community Bus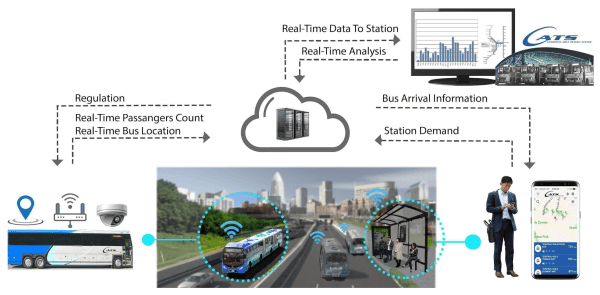 The College of Engineering has awarded seed funding to Dr. Hamed Tabhki, Assistant Professor of Electrical and Computer Engineering, for developing an infrastructure to develope a smart bus sytem for establishing transportation equity amoungst lower-income communities in the Charlotte Area. Low-income households face a spatial mismatch between their homes and where grocery stores, work, health, and essential human services are.
This effort makes steps to offer just-in-time bus transit options that reduce commute times, increase access, and bridge the disparity created by a lack of proper public transit options. In a nutshell, an "Uber-Like" public transit option is being developed for commuters by leveraging the recent advances in Artificial Intelligence (AI) and Internet of Things (IoT) technologies that can also be integrated into existing bus networks and legacy infrastructure. A non-traditional collaboration across four colleges and three universities has been coordinated to break down barriers between academia, civic organizations, and local government through close collaboration and civic engagement with (CATS) and underserved communities.
The project includes four colleges in UNC Charlotte and has faculties from Queens University and Johnson C Smith University. Lead PI Hamed Tabkhi was the Principal Investigator of an R-1 "Smart & Sustainable Cities," selected as the area of research and scholarship excellence by the Chancellor's Office. This project is directly aligned with the mission of Smart & Sustainable Cities, which is to bring recent advances in AI and IoT to address building a better, smarter Charlotte for everyone!