ECE Ambassador Program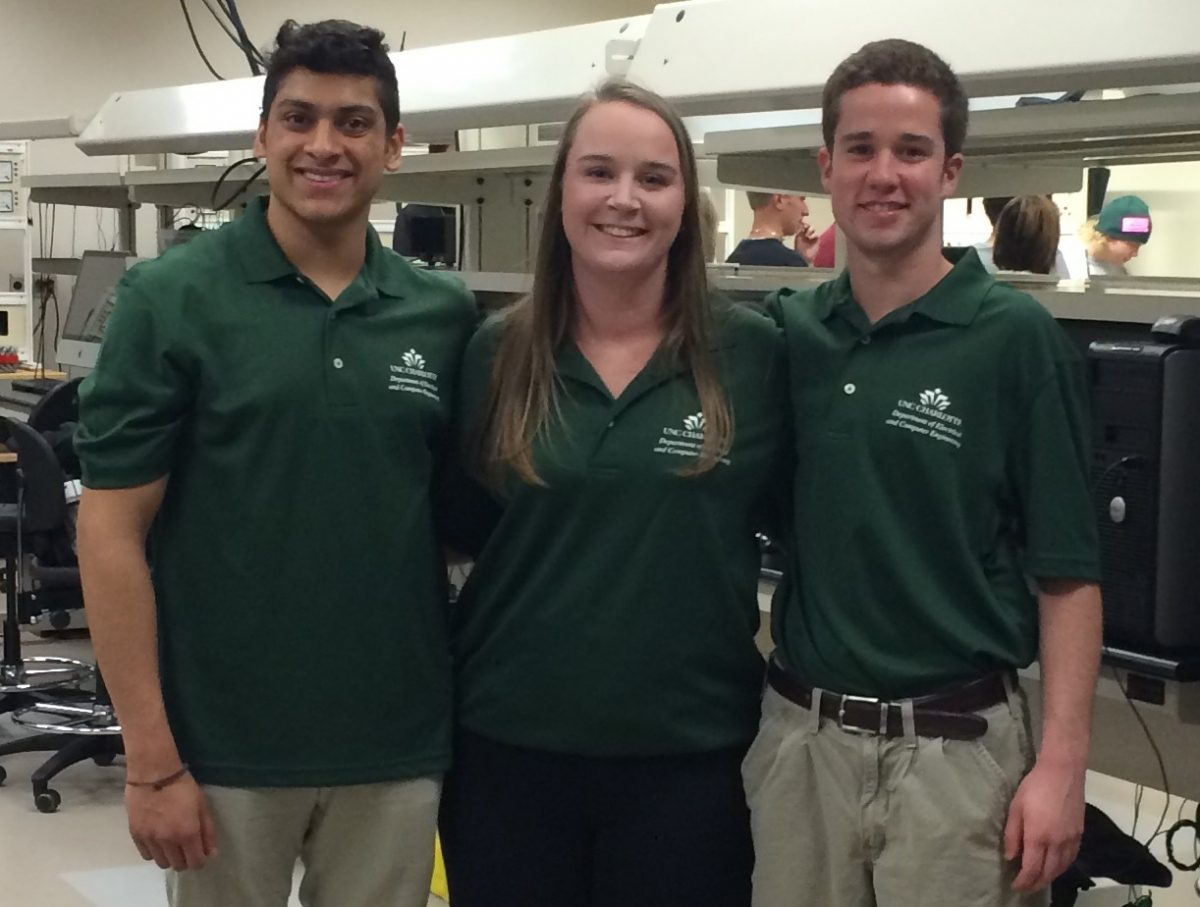 Student Ambassadors – Get more than a job!
What Is the ECE student ambassador program?
The ECE Student Ambassador Program is a leadership opportunity for students who are dedicated to serving and representing the Electrical and Computer Engineering Department. Student Ambassadors provide guided tours, serve as an ECE representative, and perform duties at various UNC Charlotte campus and community events.
What does an ECE Student Ambassador do?
Welcome and greet prospective families at various community, outreach, and recruitment events.
Provide various services to the ECE Department.
Develop an expanded knowledge of the ECE Department, College of Engineering, and UNC Charlotte.
Conduct guided tours for prospective students, schools, classes, and guests.
Represent the ECE Department during college events.
Assist with duties and tasks related to events.
Work with diverse populations and provide tips on being a successful student.
Maintain a standard appearance and professionalism.
Attend monthly meetings and required trainings.
All other duties as assigned.
Becoming An ECE Student Ambassador?
Qualifications
Must be a declared Electrical or Computer Engineering student.
Must be classified as a sophomore (45 credits or more)
Must have a cumulative GPA of at least 3.00.
Position has a one academic year commitment. (Fall-Spring)
Demonstrate strong communication and interpersonal skills.
Exhibit leadership, initiative, dependability, discipline and enthusiasm.
Student Ambassadors…
Are positive
Excel at communicating with others
Provide excellent customer service
Has the 49er Spirit!
Are open to learning new things
Have a commitment to diversity and cultural pluralism
What are the benefits of becoming an ECE Student Ambassador?
As a Student Ambassador you will develop a wide range of transferable skills that will benefit you. Employers, colleges and universities are looking for more than just good grades; they want people who can readily employ soft skills, who is involved in the community, and has provided service! Student Ambassadors will gain leadership skills that will help build your resume, scholarship and employment applications. You will earn letters of recommendations, get connected to and serve your campus, and help students and the community learn more about Engineering at UNC Charlotte.
Interested in Becoming an ECE Student Ambassador?
Contact:
Dr. Courtney Smith-Orr
Teaching Assistant Professor
ECE Department, EPIC Building 2261
704-687-7334 or csmit530@uncc.edu